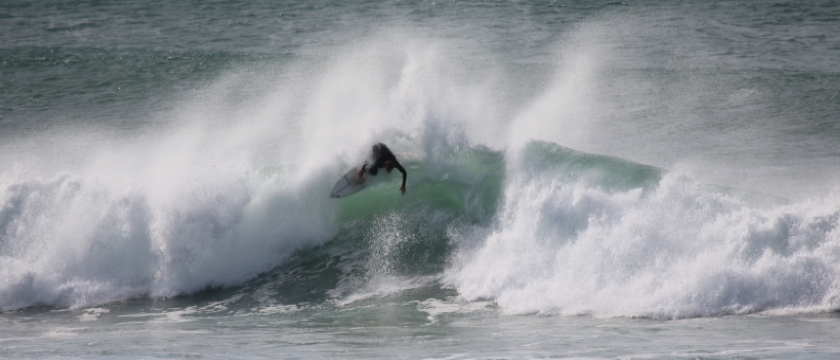 The Best Surf Spots in Taghazout Bay
Are you dreaming of surfing world-class waves under a burning sun while also having a good time with other surfers and locals? What if I told you that you can do that every time of the year? No, I'm not talking about Hawaii, Indonesia or Australia. There is a new surf destination on the rise and it's closer than you think. Moroccan surfing scene is getting bigger year after year. Even professional surfers like Kelly Slater have been spotted surfing in Morocco and more are coming! If you are an experienced surfer, intermediate or you just want to learn the basics, Morocco has it all!
Morocco's Surf Season
The best period to surf in Morocco is between October and March when the Atlantic swell hits the NW and SW facing coastlines. Yet, you will be able to surf mellow waves in the summertime too. Especially if you are surfing your first waves, this is an ideal period to visit Morocco. If you are looking for bigger waves you will always find some good surf in Anza, where is almost never flat.
Anza
This surf spot is next to Agadir and it will be your best friend in flat days. It has both beachbreak and point break. The lefts and rights in this spot are usually short and hard to catch. Also, it can be crowded when it's flat in Taghazout. The beach is full of locals during summertime, but the swimmers are not allowed in the surfing area. You will find lots of nice bars and cafes to have a drink.
Banana Point
An all-levels spot which works better on low tides. Long rights breaking from the reef and covered from Northerly winds. The waves are easy to catch and can be surfed until the beach. Its location is between Tamraght and Banana Village where you can find several places to eat. Only 10 minutes walking from the hotel in Tamraght.
Devils Rock
This is a great spot for beginners with rights and lefts easy to catch and a sandy bottom. The waves break always in the same area so it's easy to position yourself. Like Banana Point, the spot is covered from Northerly winds. We run many of our beginner surfing lesson in this spot and it's located minutes from our camp.
Crocro Beach
Like Devils Rock, this spot is suitable for beginners, but it usually catches more swell. Lots of space to surf with a long line up which makes it enjoyable even on crowded days. The bottom is sandy and the waves are mellow and punchy.
Panorama Point
Panorama is a point break next to Taghazout village and can be very long on the good days. It's a very fast wave and quite hard to surf all the way through. Still very fun and you can choose to surf its easiest section if you are looking for a gentle ride. Easier than Anchor Point, but the current can be tricky sometimes. Suitable for intermediates who want to try a pointbreak for the first time.
Anchor Point
This world-class right is a paradise for experienced surfers. It's Morocco's most famous surf spot and you have the chance of meeting professionals from time to time. It needs a large/medium NW swell to work. You will see an endless succession of walls and you can surf all the way to Taghazout if the swell is massive. It gets usually busy on small days but the surfers can spread all over the various sections.
Killers
Another world-famous spot which takes its name from the occasional visiting of killer whales. Out of all pointbreaks listed in this post, Killers is definitely the most consistent. It will work with low tide and small swell, providing a short left and a sectioning right. With bigger swells, the first section moves down South and several sections of quite strong, vertical walls form through the point.
Boilers
If you're looking for the big game, Boilers is the place for you. This spot is for experienced surfers only as it's quite hectic to come in and out because of the urchins and sharp rocks. With very powerful and consistent rights, its vertical lips are held up by channeling trade winds, bouncing off the mountains.